2023 Tucson
A Lively SUV
The Hyundai Tucson 2023 is a compact sport utility vehicle that offers bold design, cutting-edge safety and environmental technology, and dynamic performance. Whether you're looking for a family SUV, an eco-friendly SUV, or a sporty SUV, the 2023 Tucson has something for you.
Unique Styling
The 2023 Hyundai Tucson features a unique exterior design that combines flowing lines with prominent angles. The front grill incorporates distinctively designed LED daytime running lights. The headlights and taillights are also LED and have an angular shape that gives the Tucson 2023 a personality that is recognizable at first glance. The 19-inch alloy wheels complete the SUV's sporty look.
The interior of the Tucson 2023 is no slouch, with a spacious and comfortable cabin that can accommodate up to five passengers. The dashboard is sleek and modern, with a 10.25-inch touchscreen that brings together all the multimedia and navigation functions. The heated steering wheel and ventilated front seats provides optimum comfort in all seasons. The trunk offers a generous 1,095 liters of cargo space, which can be increased to 2,108 liters by folding the rear seat.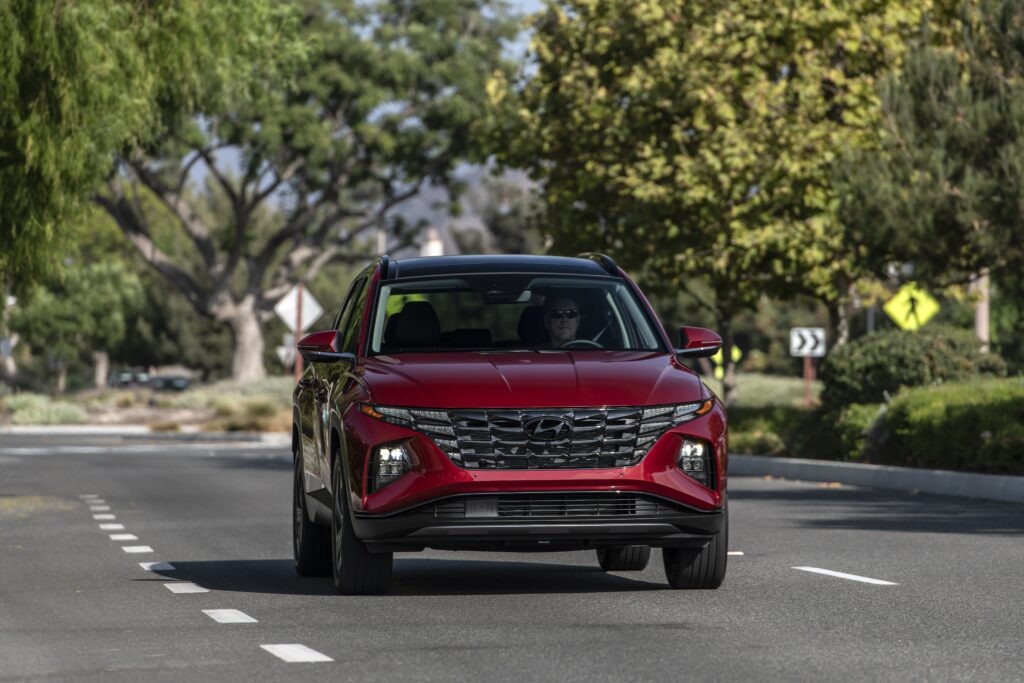 Innovation and Technology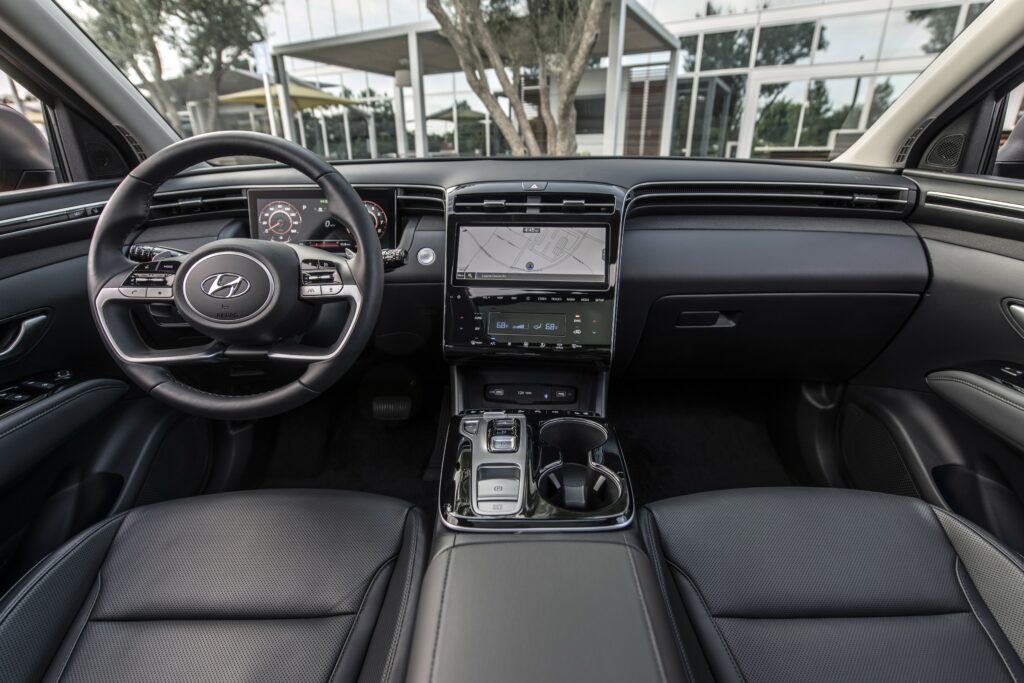 Equipped with advanced technology that makes driving safer, easier, and more enjoyable, the 2023 Hyundai Tucson is packed with standard and optional equipment. From the name, we find:
– SmartSense, the safety package that brings together several driving aids such as forward collision warning with autonomous emergency braking, lane keep assist, blind spot warning with active intervention, or adaptive cruise control with stop/start function.
– The BlueLink system, your remote access to your vehicle that allows you to control, with your smartphone, certain vehicle functions such as starting the engine, locking/unlocking the doors, or the air conditioning.
– The optional Bose Premium Sound System, which provides exceptional sound quality through eight speakers throughout the cabin.
– Apple CarPlay and Android Auto wireless systems allow you to connect your smartphone to the vehicle's multimedia system without needing a USB cable.
Dynamic Performance
The 2023 Hyundai Tucson offers three different types of engines: gasoline, hybrid, or plug-in hybrid. Each offers dynamic performance while being environmentally friendly.
The base gasoline engine is a 2.5-liter turbocharged four-cylinder that produces 187 horsepower and 178 lb.-ft of torque. It's mated to an eight-speed automatic transmission and can be paired with optional HTRAC all-wheel drive.
A hybrid engine version instead offers a naturally aspirated 1.6-liter four-cylinder paired with an electric motor for a combined 227 horsepower and 258 lb.-ft of torque. It's mated to a six-speed automatic transmission and has all-wheel drive as standard.
Finally, the most powerful and advanced Tucson is the plug-in hybrid version, which has similar mechanics to the hybrid engine but has a larger battery that gives it an estimated electric range of about 50 km. It also has a slightly higher combined power, this time reaching 261 horsepower.
The 2023 Hyundai Tucson also offers several driving modes that make it possible to adapt the vehicle's behavior to the driving conditions and drivers' preferences. The available modes are Eco, Normal, Sport and Smart, which automatically adjust the driving mode depending on the driver's driving style.
The 2023 Hyundai Tucson is an SUV that combines bold design, innovative technology, and dynamic performance. It also offers a spacious and comfortable interior, as well as a generous trunk. With its three engine options, and its exceptional quality of finish, the Hyundai Tucson 2023 is a lively SUV that will meet the needs and desires of the most demanding drivers.