Elantra Hybrid
The 2023 Hyundai Elantra Hybrid is a compact sedan that offers a hybrid version for environmentally conscious buyers. Despite its compact size, it has a stylish exterior and offers value for its features. And because it has a hybrid version available, it is an example of fuel efficiency in the compact car world.
For 2023, the car retains its unique style. It has always been ahead of the curve for its contemporary look, and the current generation is no exception, with a sharper front end, dramatic exterior lighting elements and dramatic wheel designs.
The Hyundai Elantra Hybrid is an environmentally friendly choice, with a high fuel economy rating of 4.8 L/100 km in the city and only 4.5 L/100 km on the highway. It achieves this by combining a 1.6-litre, 4-cylinder gasoline engine with an electric motor.
The car develops 139 horsepower and 195 lb-ft of torque, which is sent to the front wheels through a 6-speed automatic transmission. A small 1.9 kWh lithium-ion battery maximizes fuel economy.
More than just Economy
The 2023 Hyundai Elantra Hybrid is not only fuel efficient, it's also spacious inside. The interior is futuristic, with the dashboard and center console wrapping around the driver and a strip of LED lights following the dashboard ventilation. Passenger volume is generous, especially in the back, which helps the Hyundai Elantra compete with roomier models.
Even when it comes to handling, the Hyundai Elantra can easily compete with rivals like the Honda Civic and Mazda 3. It has a sporty, precise feel to it that allows it to hold its own. The Hyundai Elantra is a fun car to drive, with well-tuned suspension and precise steering.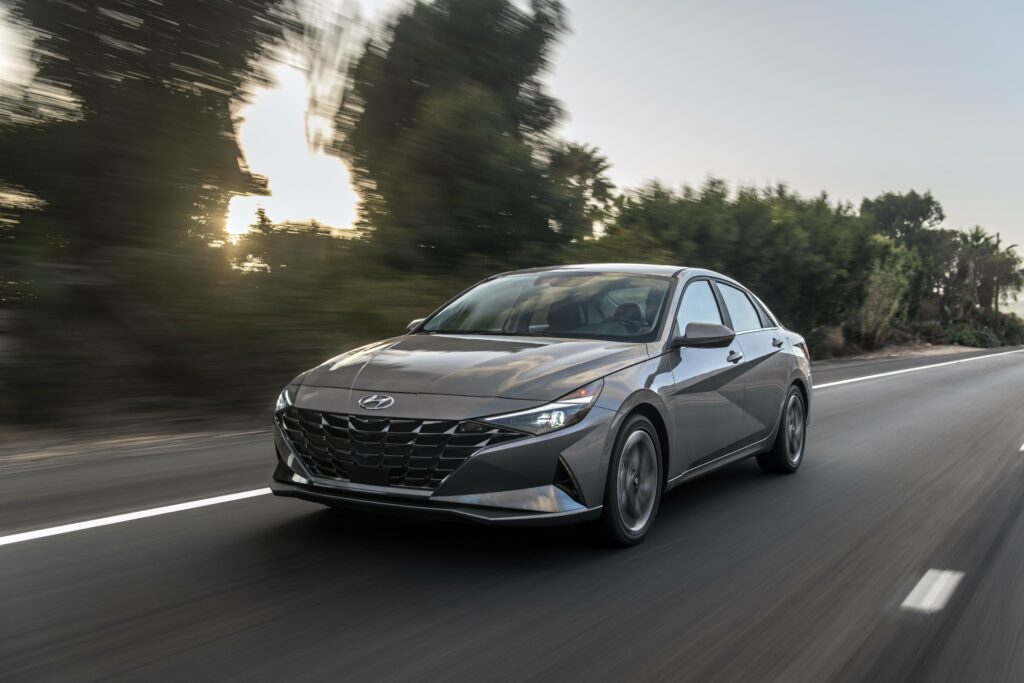 A Well-Equipped Interior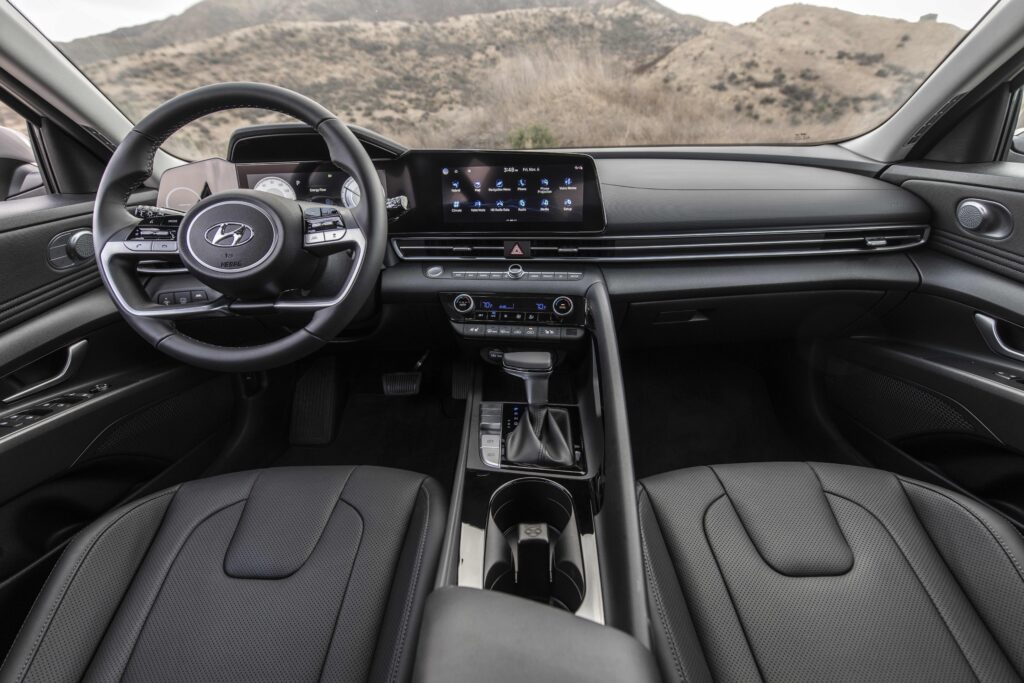 The Hyundai Elantra Hybrid, like all Hyundai vehicles, offers exceptional value for money and equipment. The compact car is no exception, offering a long list of standard and optional features that make any driver comfortable.
For example, in the Elantra, there is a 26-centimetre digital screen that sits alongside a second infotainment touchscreen of the same size, which springs from the top of the Elantra's dashboard.
Apple CarPlay and Android Auto are both standard, as is a Wi-Fi connection. A voice-recognition feature allows the driver to adjust things like the climate control or heated seats by simply speaking specific phrases.
Even when it comes to safety, the Elantra Hybrid is exceptional. Several standard features, such as standard automated emergency braking with pedestrian detection, lane departure warning with lane keeping assist or optional adaptive cruise control with lane centring function, and a long list of other features, help to rank the Elantra among the safest compact cars in the class.
With so much quality, the Hyundai Elantra Hybrid stands out as an attractive and reliable compact car for buyers looking for an economical and environmentally friendly hybrid option. With its spacious, futuristic interior, enhanced features and reasonable pricing, the car is a solid choice for first-time car buyers or those looking to reduce their carbon footprint while maintaining driving pleasure behind the wheel.